Technical Data:
• Component dimension min. 28 x 140 mm and max. 140 x 200 mm.
• Component length min. 0.15 m (depending on processing) to max 12 m (feed length min 0.8m).
• Efficient production prosses through MULTILOG system with up to 150 linear meters / hour.
• Various wall thicknesses are producible with one machine setting.
4F POSI System – Positioniersteuerung für 4Fach Fräse
• Automatic milling depth adjustment of all tools (6 axes in total).
• Precise feed control through servo-electric  drives.
• Several other processing options (see processing examples).
• No changeover with different wall  dimension.
• Two different wall thicknesses (inner and outer walls) can be produced with one machine setting.
MULTILOG System – high performance and precision
• Production of several components from one raw length in one pass.
• small waste due to length optimization.
• Highest accuracy because the direction of the feed is always the same.
• Maximum performance due to constant work flow up to 150 meters / hour.
BTL IMPORT –  BTL data interface for CAD planning
• Standard at no extra cost.
• Standardized BTL data import according to the valid data protocol.
• Entering tedious data is a thing of the  past.
• Transfer CAD data to the machine – automatically optimize and generate MULTILOG – start production!
DOVETAIL – dovetail combi router 3-axis controlled:
• Dovetail connection for extension or for internal wall connection.
• Dovetail male on both ends of component possible.
• Dovetail female on longitudal or on face side in dimension according to the data input.
• Tenon and Grooves according to  the input dimension.
DUODRILL double-sided drilling unit:
• For the production of numerous bores with high performance and optimal quality.
• Without splittering, as the log is drilled from two sides.
• Two drills can be used side by side and simultaneously, also with different diameters.
Corner cutter for 45 ° corner chamfer with 4 tools: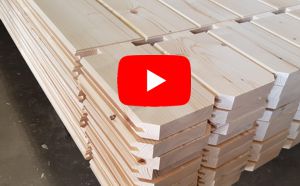 • For chamfering the corners on the foreheads.
• Each tool can be used individually, with which each corner can be chamfered individually.
• Programming directly via the software or via data import from the CAD program.
• Splitter free using fine saws combined with profile choppers.